Hazy skies kept temps lower than originally forecast and turned that typical blue sky to more of a reddish-orange hue. Conditions are still warm to begin the week, but mid-week rain chances will help change that!
The week starts warm and slight increases in humidity will also lead to higher heat index values. Generally, those were near 90 degrees this weekend. Look for max heat index values closer to 91-94 on Monday and Tuesday...Not out of control, but noticeably muggier.
RAIN - YOU WANT IT? WE'VE GOT IT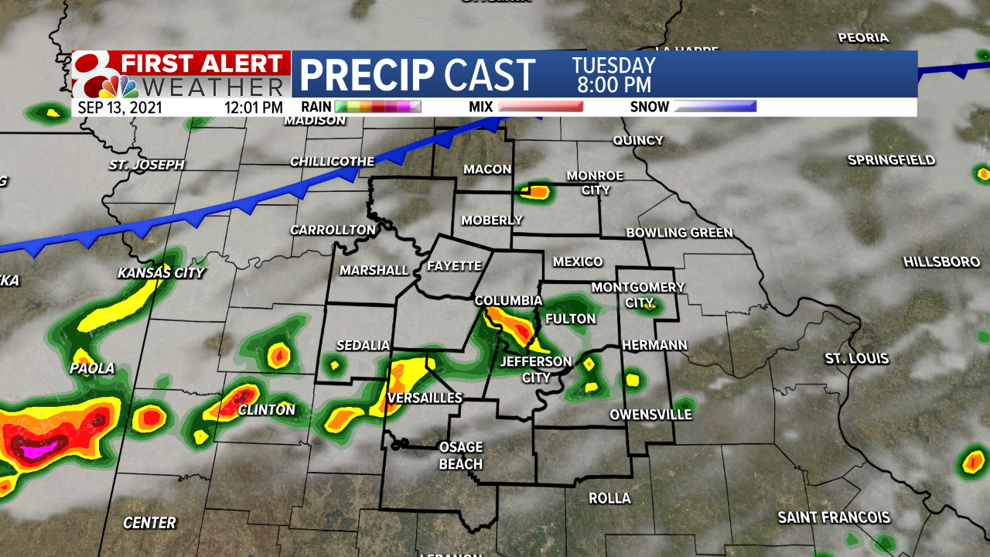 Rain will become possible as a cold front advances over Missouri starting Tuesday evening and Tuesday night. The best time for rain does appear to be overnight Tuesday and possibly into early Wednesday morning.
Rainfall amounts vary with each computer model simulation and given how dry it has been, a skeptical approach to our rain chances is taken for rain probabilities.
Ultimately, this rain will lead to cooler weather where highs will only be in the lower to middle 80s Wednesday through Friday which is more normal for this time of year.