Now that we are into the fall season, get ready to expect temperature swings and occasional clouds with rain.
This will be a chilly day as skies are cloudy to start the morning. Friday's temps will be in the middle 50s with a breeze creating some wind chills. Light rain showers will be possible this morning, too.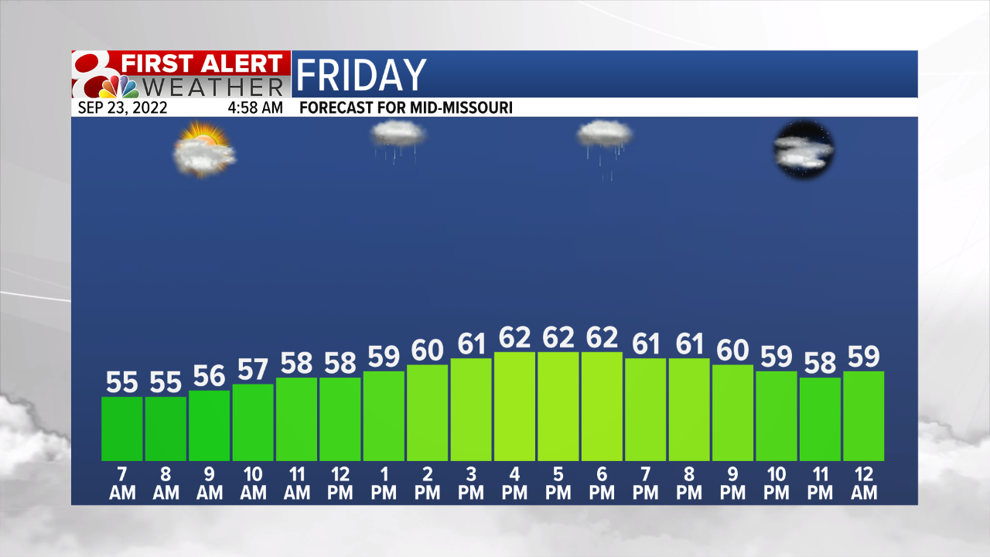 Rain does become more likely by late morning and expect scattered showers this afternoon through early evening. The rain will not be heavy, mainly light with occasional sprinkles mixed in too. This will lead to a rain-cooled afternoon with highs only in the upper 50s to lower 60s. Rain should wrap up around 9pm this evening.
We get a big, brief warm-up with lots of sunshine Saturday where daytime temps jump in the lower to middle 80s. This will be ahead of another cold front that passes through Missouri late Saturday afternoon.
Unfortunately, rain is NOT expected with this Saturday cold front. This system will be all about knocking out the summer heat for good. Temps starting from Sunday through Thursday of next week will only reach the lower to middle 70s and several nights next week will drop in the upper 40s across the entire region.
Rain is absent from the forecast over the next 7-10 days after today. This will once again become a very dry period for Missouri, a theme that may become common this upcoming fall season.