If you're out and about on Wednesday and you think, "Oh, it is a warm Thanksgiving!" ... NOPE! A big smack of cold air is on the way Wednesday night in time for Turkey Day.
TEMPERATURES
Temperatures will cool into the middle 40s Tuesday evening and then start warming a few degrees late into the night due to a warmer wind from the south and increasing cloud cover for Wednesday. Temperatures should be around 50º around sunrise on Wednesday.
You can expect overcast skies on Wednesday. However, that doesn't mean it will be a colder day; it is quite the opposite. Clouds will provide insulation, and along with the southerly warm flow, should allow temps to warm into the lower and middle 60s.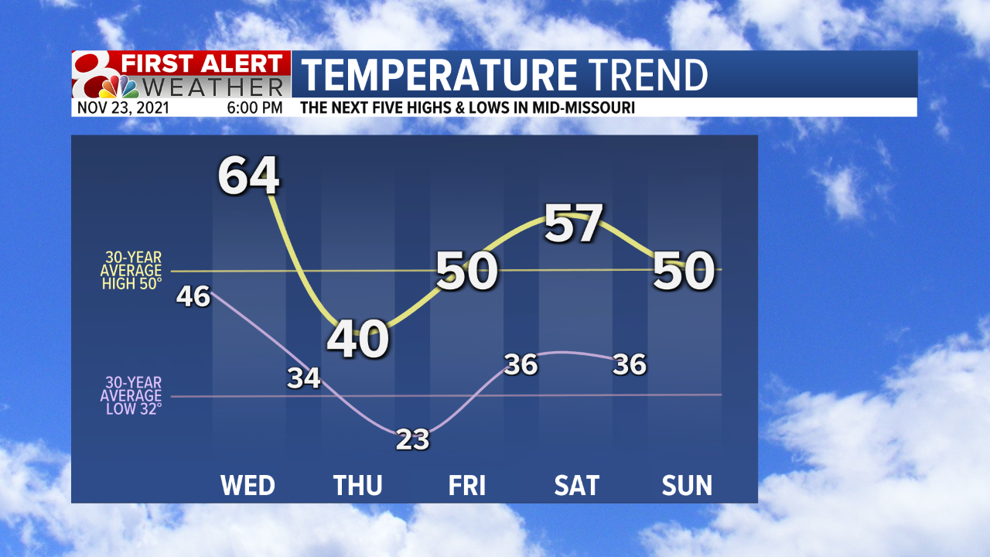 A cold front will move in overnight into Thursday and this will give us moisture (see below) and cooler temps for Thanksgiving. 
Highs on Thursday may only reach near 40º under decreasing clouds. This means we'll be in the 30s for the majority of Thanksgiving. Expect plenty of sun in the afternoon hours, and that should help you feel a bit warmer - especially if you're wearing a dark-colored jacket. 
Friday should rebound a bit with highs in the upper 40s, near 50º with a mix of sun and a few passing clouds under a fair-weather high pressure system. 
The weekend after Thanksgiving is looking fairly seasonal with highs in the lower to middle 50s and lows in the middle 30s. 
PRECIPITATION
Much of the week, and much of November from here on out, will be dry. Our best, possibly only, chance for precipitation the remainder of the month is Wednesday night into Thursday morning as a cold front pushes through. This front is looking strong enough to drop temps more than 20-degrees from Wednesday afternoon to Thursday afternoon. It should also produce enough moisture to create precipitation. 
On Wednesday afternoon, under the cloudy skies, there is a chance for drizzle or sprinkles to move in ahead of the main event. Most rain will move through between 7pm Wednesday and 4am Thursday.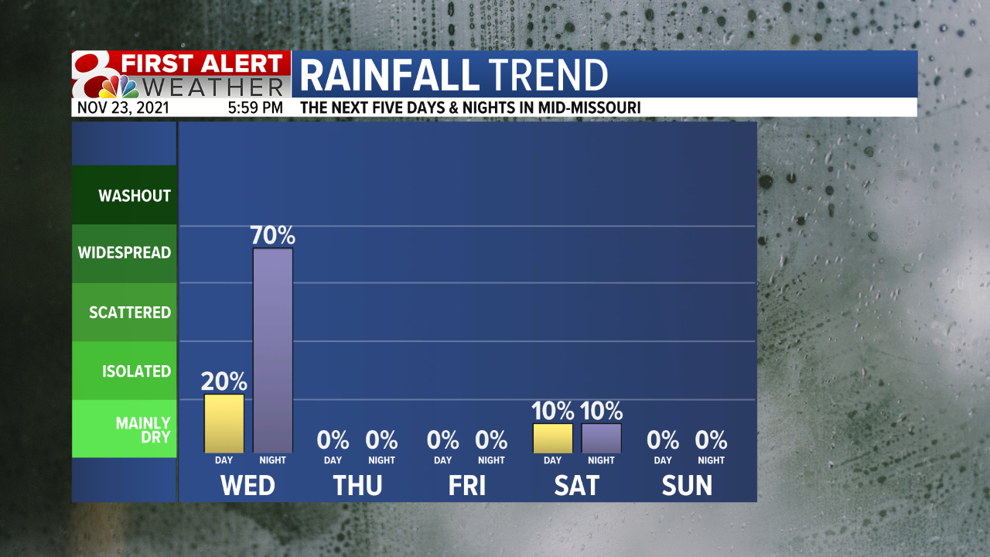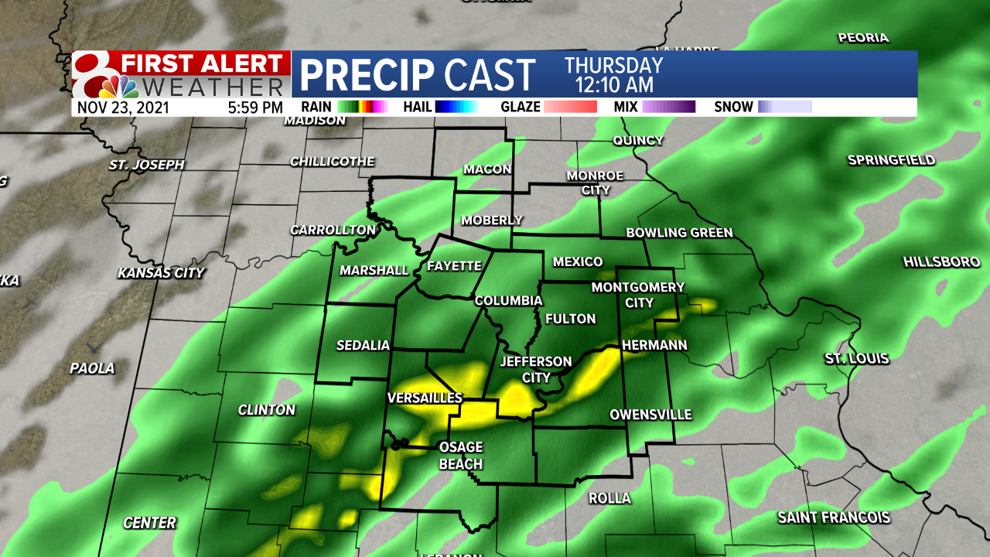 We expect temperatures to remain above freezing through the event, leading to a rain-only event. At this time, moisture looks to exit before anything would change to wintry precip. Stay tuned for any updates if the system slows.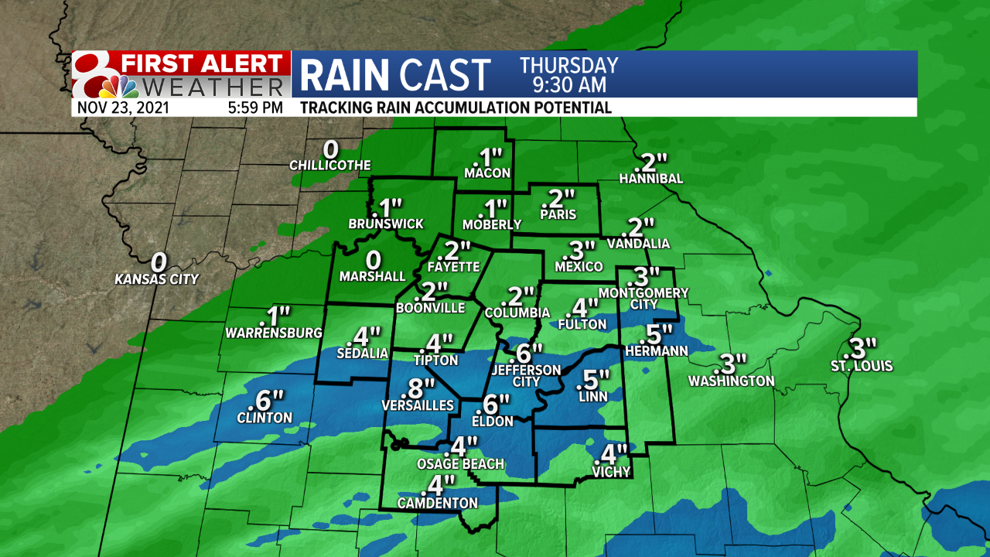 Rainfall accumulation will be less than half an inch for much of central Missouri, though a few locations may reach the half-inch mark given a locally heavier downpour.
Sunshine will return in abundant supply Thanksgiving afternoon and we'll remain dry the rest of the week... and likely the rest of November.
THE WEEKEND
Temperatures will be fairly seasonal, with Saturday being the warmest. A frontal system will move to our north on Saturday and that will give us more cloud cover. Rain chances remain limited; we're only giving it a 10% chance. Most, if not all, of this moisture should stay north.
We look to wrap up November on Monday and Tuesday with above average temperatures.
Watch KOMU 8 News and download the KOMU 8 First Alert Weather App on Apple and Android devices and turn notifications on so you're up-to-date with the latest developments.