Cloud cover worked to keep temperatures a touch cooler today, but a slow warming trend is expected to kick in over the next few days.
Temperatures will be on a warming trend through the rest of the week with highs back in the 90s by the weekend. #MidMoWx #MoWx #MidMo pic.twitter.com/Ayr6Xsb64e

— Matt Beckwith (@KOMUMatt) August 3, 2021
WEDNESDAY'S FORECAST
Morning temperatures will be near 60° with some rural areas falling into the upper 50s. Skies will be mostly sunny in the morning, but cloud cover is expected to increase in the afternoon with highs in the middle 80s.
Skies are expected to be a little less hazy, as the amount of surface smoke will be on the decrease.
SLIGHT RAIN CHANCE
A passing piece of energy will bring extra cloud cover and a slight chance of rain for Thursday and Thursday night. Most of the day is expected to be dry, but you might have to dodge a few isolated showers.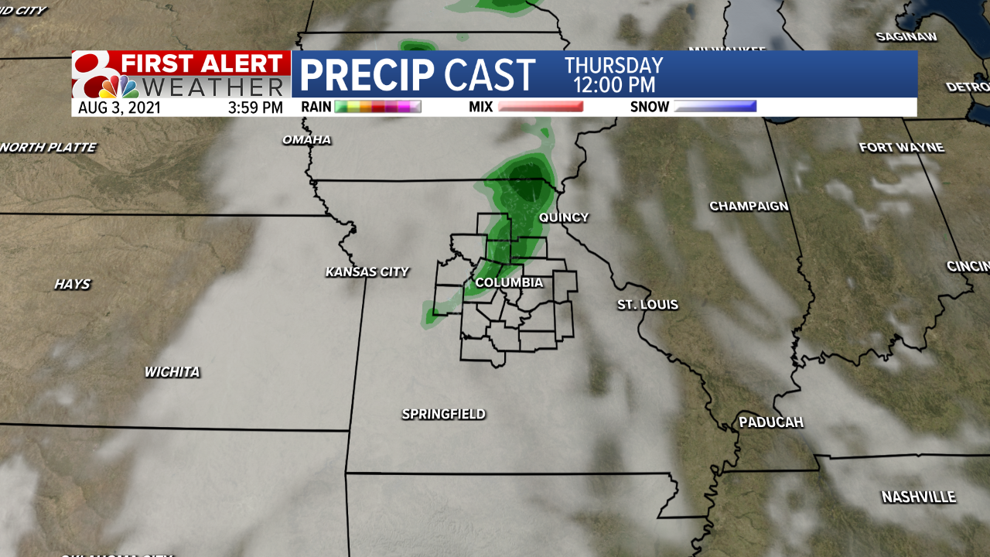 LOOKING AHEAD
Humidity will be on the increase towards the end of the week and into the weekend with dew points climbing into the uncomfortable level once again.
Temperatures will be on a significant warming trend as well with highs in the lower to middle 90s into early next week with slight chances of rain in the forecast.