Happy Sunday! We've been in a cooler pattern these past few days, and - with the brief exception of Monday - we're only going to go downhill as we head into midweek. In today's First Alert Weather Story, we're tracking flakes on Tuesday, a couple chances for widespread frost, and an eventual return to milder weather. 
Monday: A Nice Day
If you're looking to get outside, Monday is the day to do it. We'll see mainly sunny skies (especially for the first half of our day) with temperatures in the middle to upper 60s by afternoon.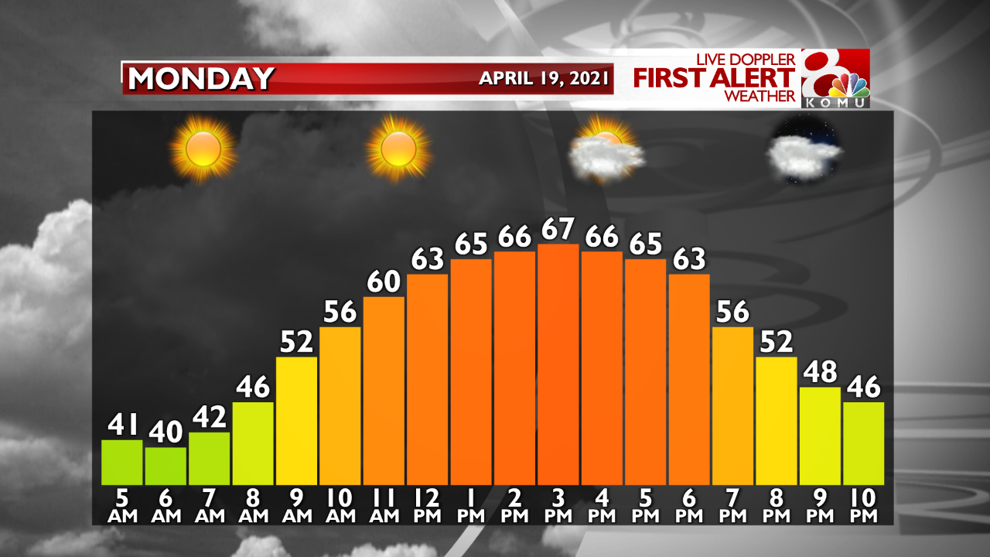 Clouds will increase Monday evening ahead of Tuesday's storm system. 
Tuesday: Tracking Rain & Snow
A band of rain and snow will develop behind a cold front Tuesday morning. This band of precipitation will sag into mid-MO throughout the first half of the day.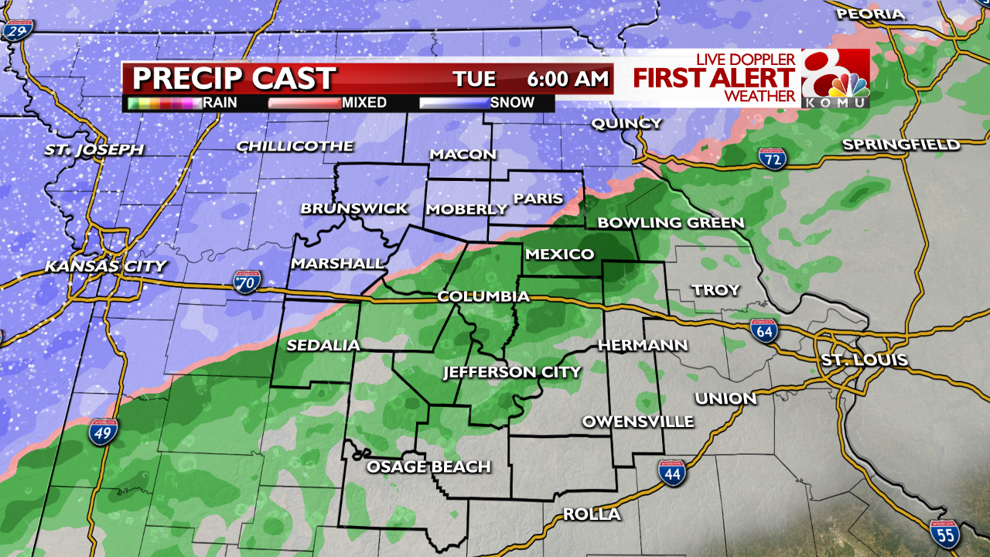 I expect things to begin as rain before switching to a rain/snow mix or entirely to snow. The peak time to see snow in mid-MO should be in the morning and early afternoon. It is during this time that we have a decent chance (maybe a little better than 50/50) of seeing a period of all snow.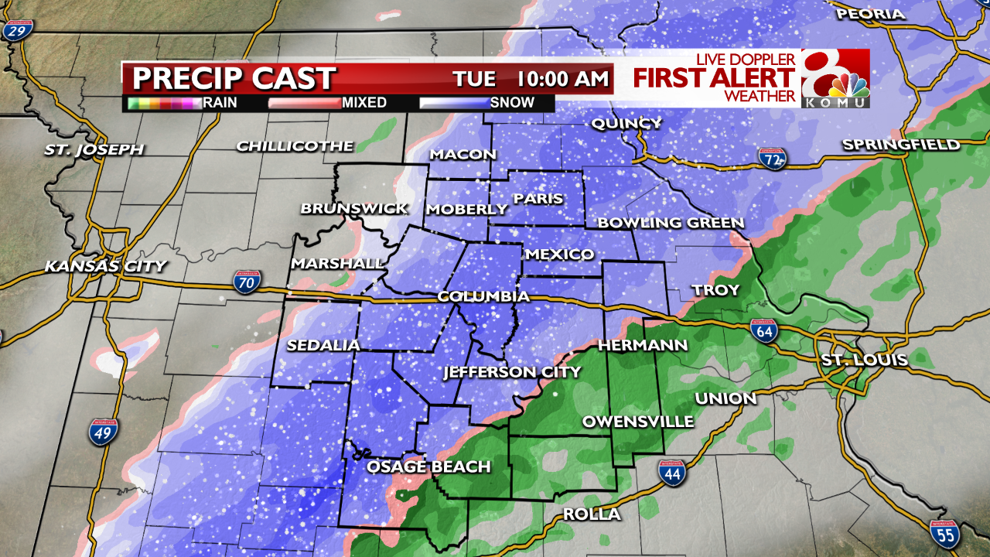 By the middle of the afternoon, this band of rain and snow should start to shift eastward. We will gradually dry out from west to east as the evening progresses.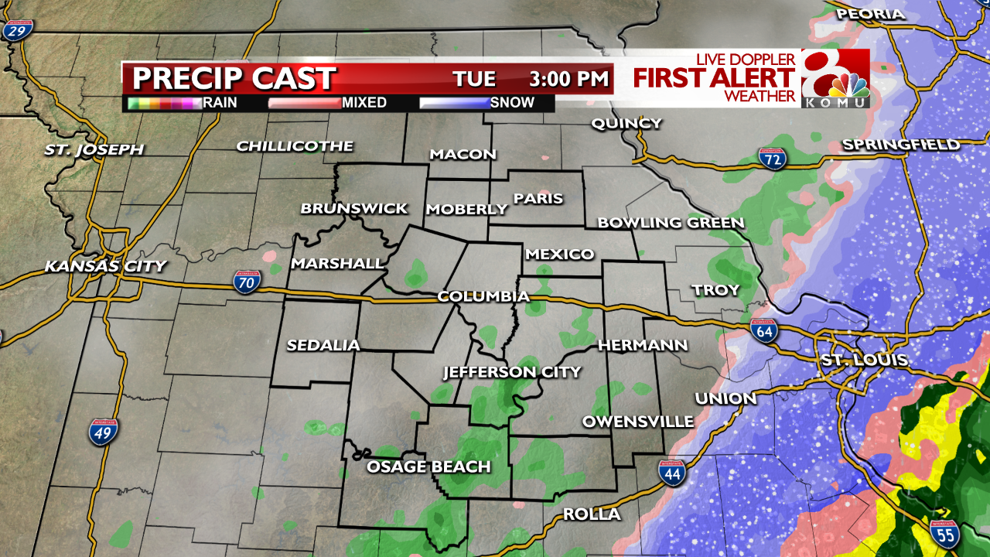 Impacts & Headlines
At this time, our main take-away points are this: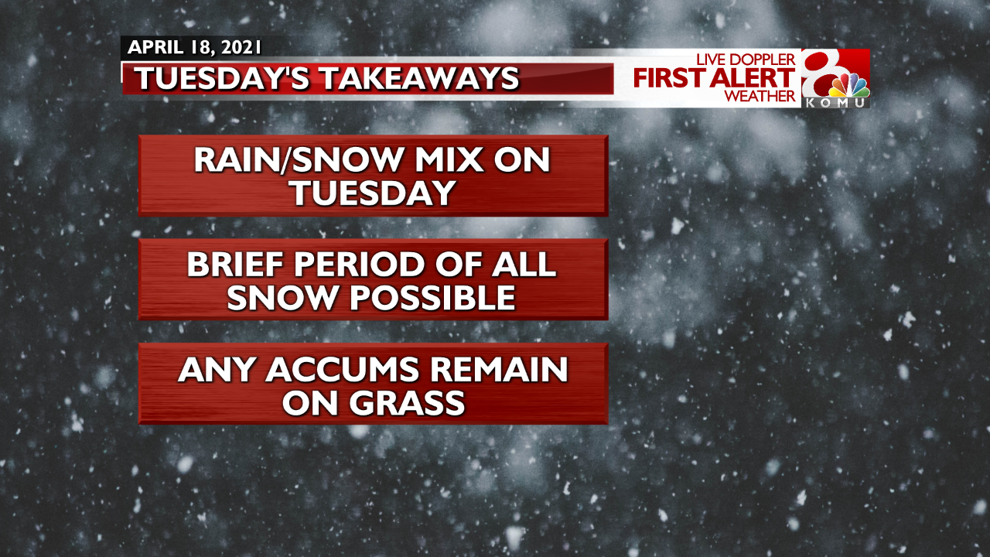 We're very confident that there will be at least some snowflakes in mid-MO. It's also looking more likely - but NOT a slam-dunk - that we will see a brief period where precipitation changes entirely to snow. It could snow rather heavily, too.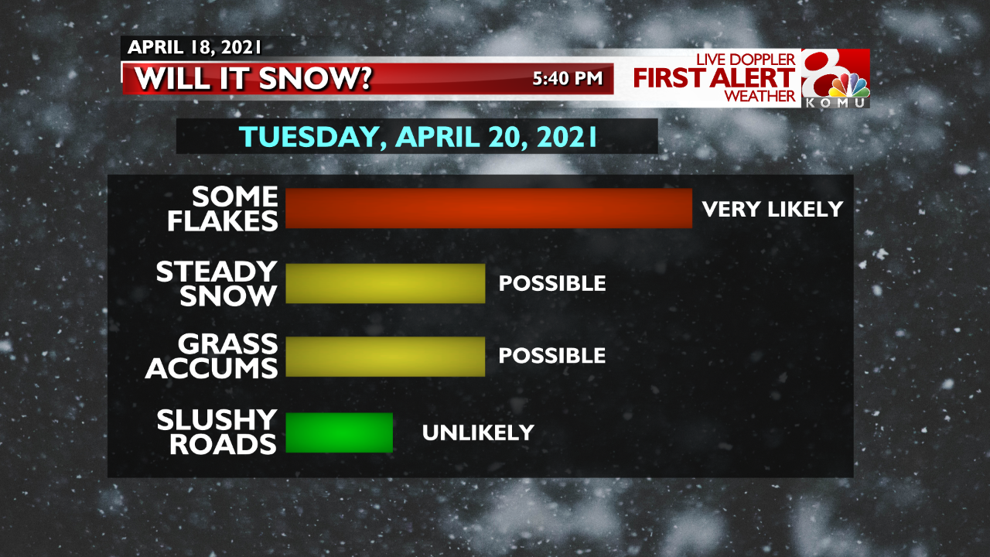 Accumulations are much more uncertain. If it snows hard enough for a couple hours, we might see slushy accumulations build up on grassy and elevated surfaces. However, this will require air temperatures to hover between 32 and 35 degrees. If temperatures stay in the upper 30s, snow will be unable to build up even on elevated surfaces. 
Right now, the best chance to see these accumulations will be north and west of Columbia. Given ground temperatures in the 40s and 50s, we do not expect accumulations on roads. You will still want to be careful when traveling, especially over bridges and overpasses, but roads should remain mainly wet. 
Wednesday & Thursday: Turning Cold
After the rain/snow mix leaves Tuesday evening, the core of the cold air will push over mid-MO. That may leave temperatures in the upper 20s by Wednesday morning. If we hit our current forecast low of 29, it would tie a record set all the way back in 1907. This cold snap will make for widespread frost and freeze conditions, so be sure to cover up or bring in any plants you have that are sensitive to the cold.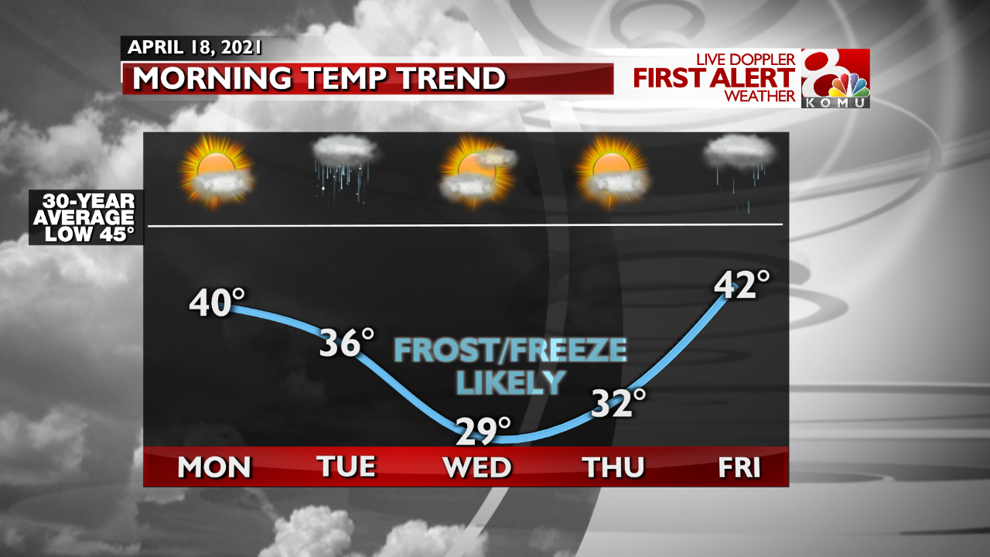 Another chilly morning is expected for Thursday. Once again, widespread frost is likely and a light freeze is possible, especially east of HWY 63.
Next Weekend: Rain Chances & Warmer
After the midweek cold spell, another system will push into the Midwest and create chances of rain starting Friday. This will mark the beginning of a warming trend, with temperatures by next Sunday and Monday back into the middle and upper 60s. 
Have a great week!