Showers and thunderstorms will move through the region Wednesday afternoon into Thursday morning. 
9PM Wednesday Update: The severe weather threat has decreased quite a bit and the severe thunderstorm watch has been canceled. A stray storm may still become strong, but heavy rain/localized flash flooding is now the primary threat. #MidMoWx #MoWx #MidMo pic.twitter.com/ArIQsgEyi4

— Matt Beckwith (@KOMUMatt) August 4, 2022
HERE COMES THE RAIN
These storms have already developed and will continue off and on through the evening. After sunset, the severe threat will be on the decrease, but additional showers and storms are expected to develop through the night bringing the potential for heavy rainfall, especially for areas south of I-70.
These storms will continue to drift southward into southern Missouri throughout the night, clearing up before sunrise on Thursday.
In total, around 0.50" is possible with this rainfall for the locations to get rain. we could see locally higher amounts up to 2-4" which may lead to flash flooding - Again, we expect this to be an isolated case.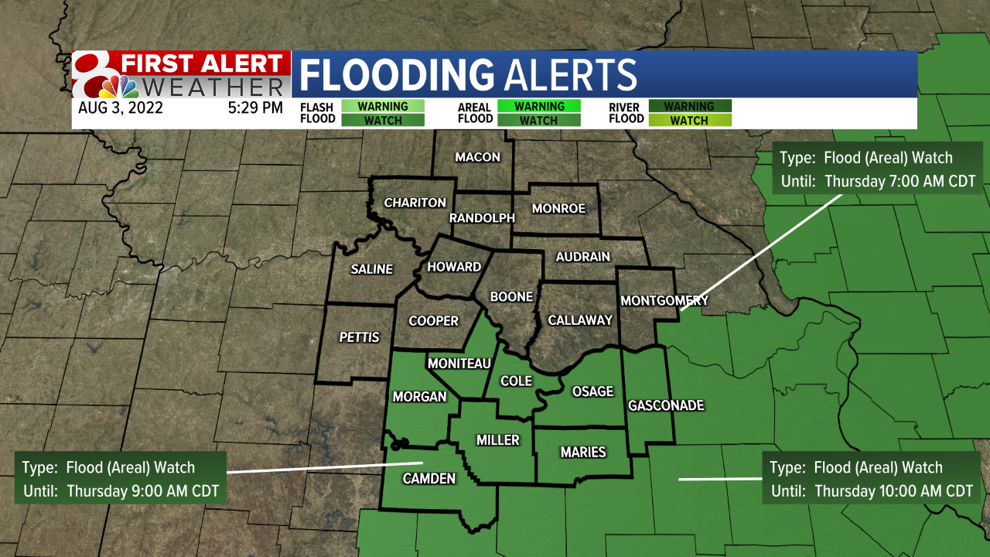 Temperatures will be cooler into Thursday and Friday, but the humidity kind of sticks around with heat indices in the middle 90s, even though temps only reach near 90 degrees. 
This weekend will be much warm, yet again and the heat indices will reach the 100s through Sunday. There could be more rain chances early next week which would cool off Missouri.