Happy (rainy) Saturday! With rain and wind having overspread much of mid-MO throughout the afternoon hours, many of us have seen our outdoor activities placed on hold. But it won't stay that way for long.
Sunday is going to bring us an absolutely fabulous day to get outside, though you might need to contend with some mud left behind from the heavy rain amounts. We're breaking it all down in today's First Alert Weather Story.  
Saturday Night: Rain Exits
After hours upon hours of wind-driven rain, this rain will finally begin to exit the region Saturday evening. Showers will clear the area from west to east, with rain likely ending in our western counties before sunset. For folks east of HWY 63, the final drops are likely to fall sometime between 8 PM and 11 PM.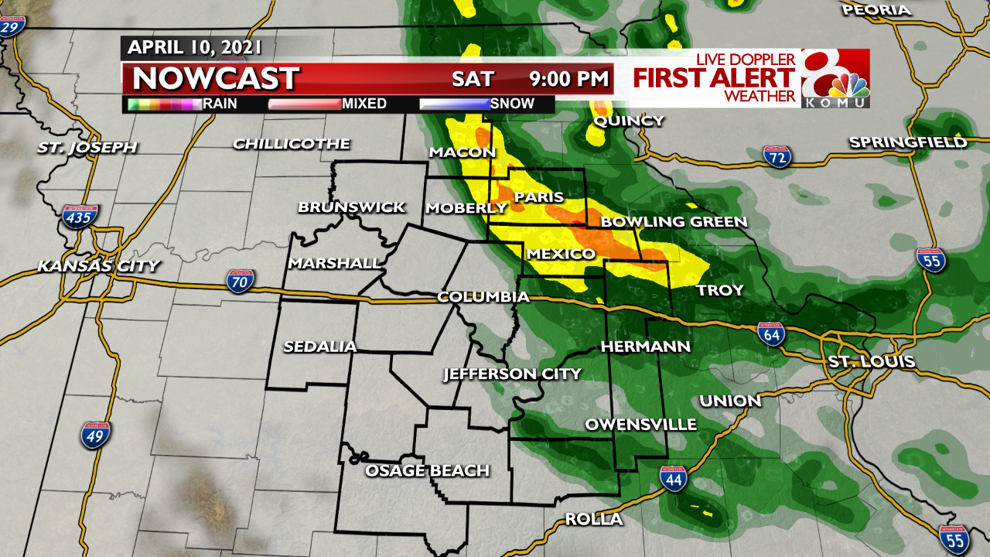 Additionally, the wind has become so strong in portions of the area that a Wind Advisory is in effect. This advisory includes Monroe, Audrain, and Montgomery counties. It lasts until 12 AM Sunday. The main concern with this is wind gusting up to 45 mph. That could blow around loose outdoor objects, as well as make it tough to drive.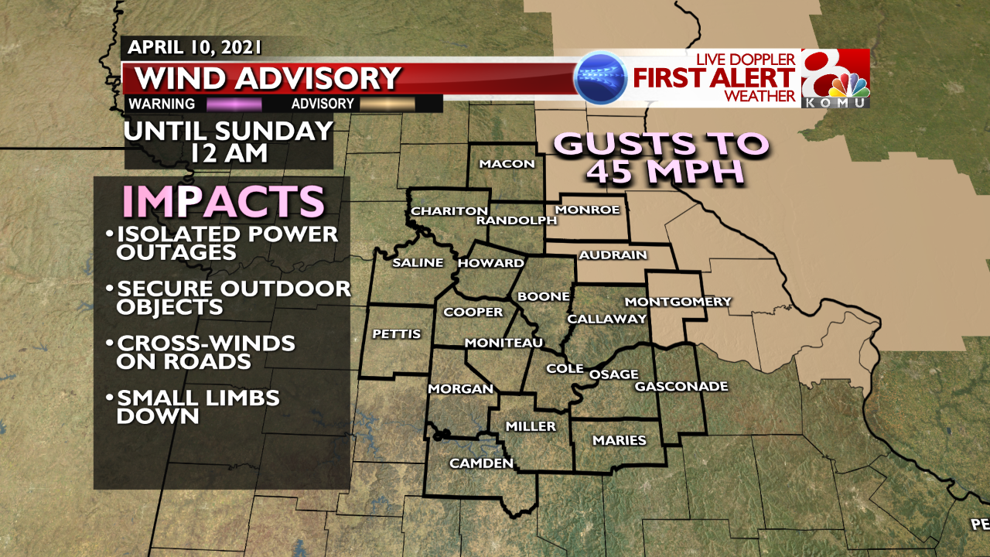 It will be windy elsewhere in mid-MO, but gusts should generally remain below 40 mph. 
Sunday: Mild, Dry, & Sunny!
After a soggy Saturday, Sunday will give us a chance to dry out. 
We should begin the day with mostly sunny skies. Any lingering cloud cover should clear out by mid to late morning. Given the plentiful sunshine, we'll quickly climb through the 50s and 60s by early afternoon.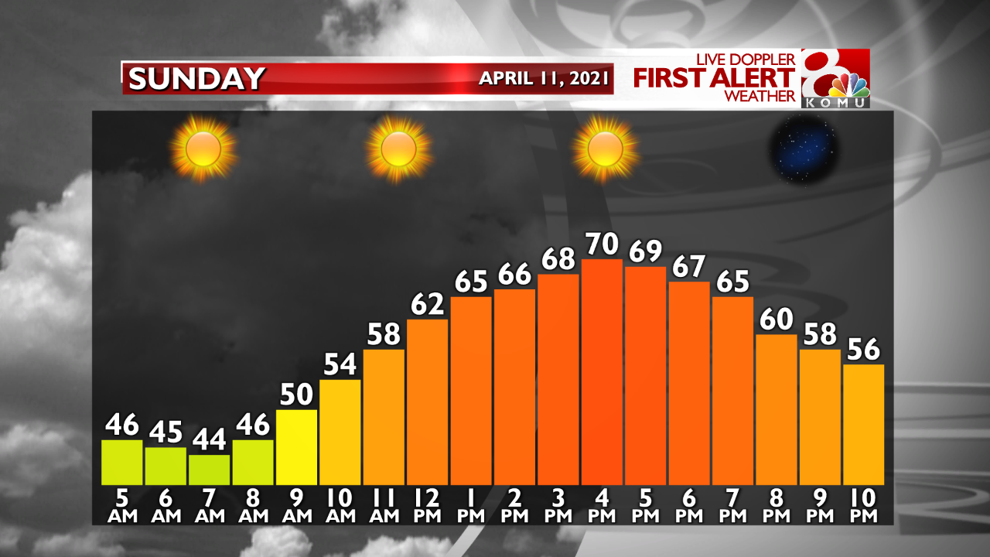 Highs Sunday afternoon will reach the upper 60s and lower 70s area-wide.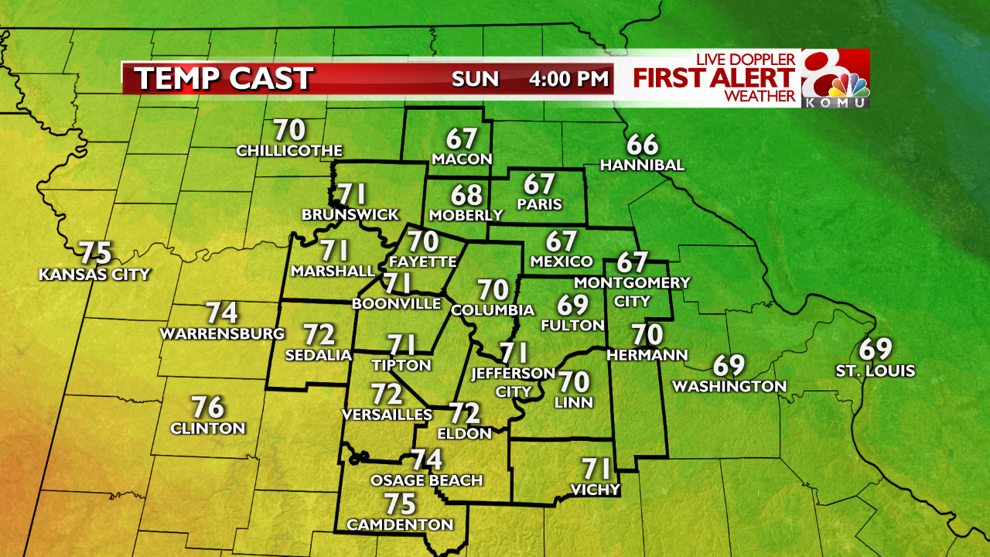 Although we'll still be dealing with breezy conditions, the westerly winds for Sunday will be much tamer: only gusting to 20-25 mph. If you're itching to get back outside, Sunday is most certainly your day! 
The Upcoming Week: Cooler but Mainly Dry
After Sunday's warmth, a weak cold front will push through Monday morning and knock temperatures back down. We'll see highs throughout the week in the upper 50s to lower 60s, which is around 5 degrees below average for this time of year.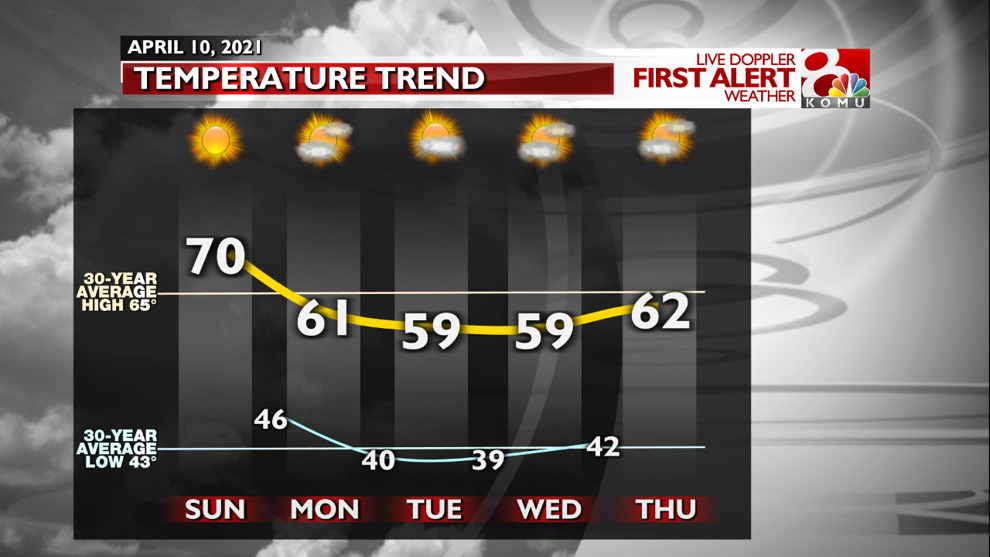 We will also see variable cloudiness, though I still think there will be plenty of opportunities to get outside and take advantage of some sunshine. The sunniest day of the upcoming week currently looks to be Tuesday, where clouds should be kept to a relative minimum. 
The pattern will get more active again by late-week, with chances of rain returning for Friday and next Saturday.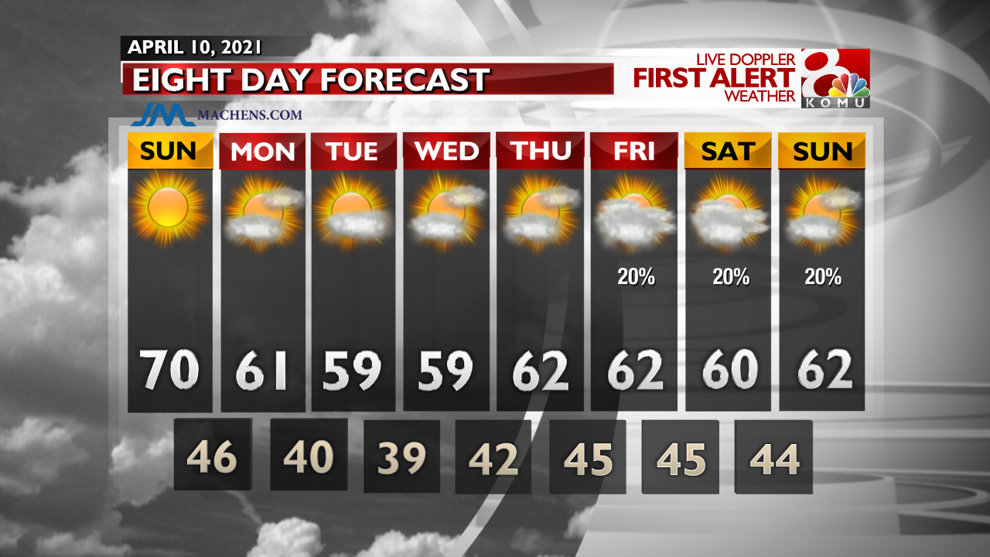 Have a great rest of your weekend!