After a few very mild days with cold mornings, the air will be warming up quickly this weekend. Dry weather has also led to abnormally dry soil.
Mild today, but hot by the end of this weekend. Temps nearing 90 degrees again Sunday-TuesdaySaturday looks like a beautiful day to be outdoors this weekend!https://t.co/lLUZxguxEU @KOMUnews #mowx pic.twitter.com/D6zGWMGqae

— Tim Schmidt (@komuTim) September 23, 2021
ROOTS & BLUES MUSIC FESTIVAL
Those attending the music fest in Columbia this weekend will be best served bringing a jacket or sweat shirt for those quickly-cool evenings Friday and Saturday evening. Temps will be in the upper 70s Saturday afternoon, rising in the upper 80s Sunday.
Also, don't forget sunscreen! the UV index will be around 7-8 which will lead to a sunburn time of around 45 minutes. There will be plenty of sunshine this weekend so be sure to grab shade when you can.
BACK TO DROUGHT?
Conditions have been very dry over the last few weeks. Since August 1, the Columbia Regional Airport has recorded 3.52" rainfall which is around 50% lower than normal for the two month stretch.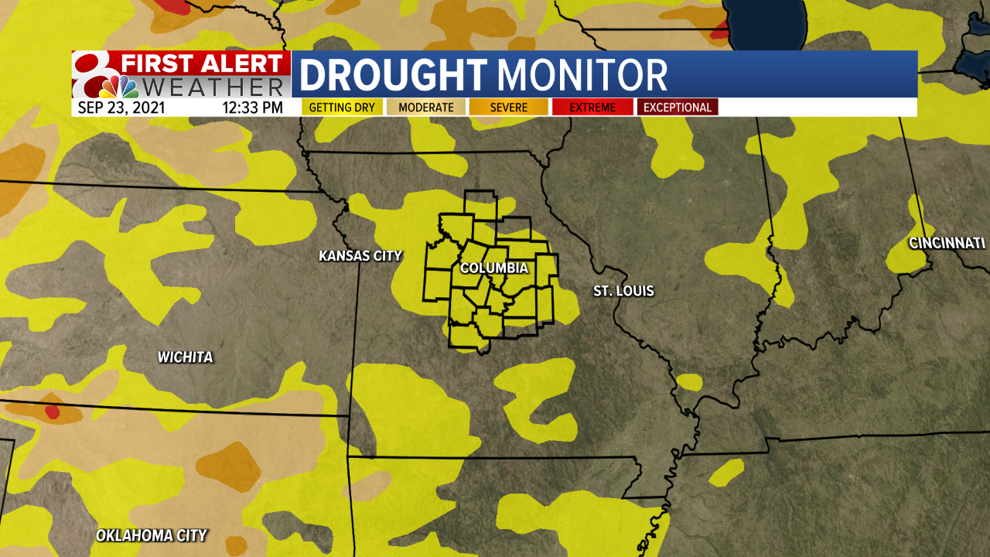 The Climate Prediction Center has expanded the area of 'abnormal dryness' over Missouri from ~6% to 40% in the last two weeks. At the beginning of the year, most of northern Missouri was in a slight drought. Thanks to above normal spring and summer rains, lower soil moisture had recovered nicely.
However, persistent hot and dry periods have enhanced the loss of soil moisture. Continued dry weather may lead to a re-emergence of drought in central and northern Missouri. The most of western two-thirds of the country are experiencing some sort of drought.