Good evening! Rain has overspread the region, and it is likely to continue in earnest through about midnight. Let's dive in to the forecast...
Saturday Evening & Overnight
Moisture is being brought in out of the south, courtesy of a chunk of atmospheric energy that is moving overhead. This has resulted in a widespread area of rain across much of the Midwest. 
TIMELINE
Steady rain with embedded heavier pockets will likely continue across the region through about 10 PM. Nowcast is picking up on this quite nicely, showing the widespread nature of the rain.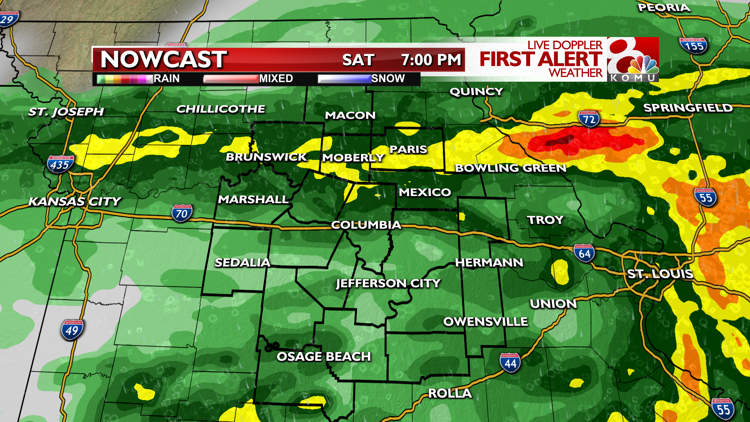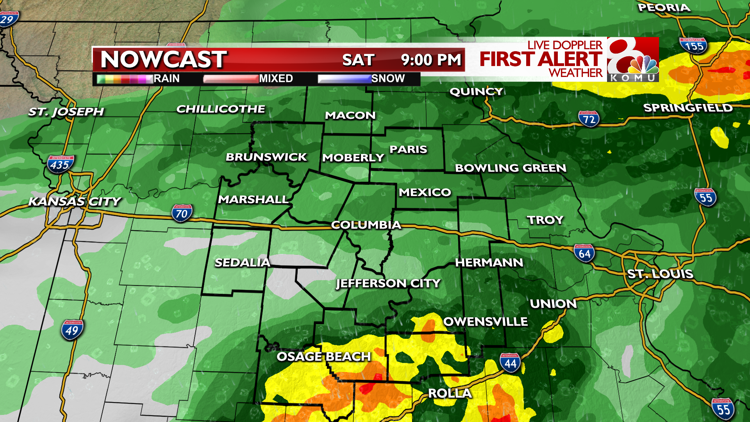 Around the 10 PM to 11 PM timeframe, the most widespread of the rainfall should be working its way east of mid-Missouri. We will still be contending with showers, but they will be lighter and more scattered.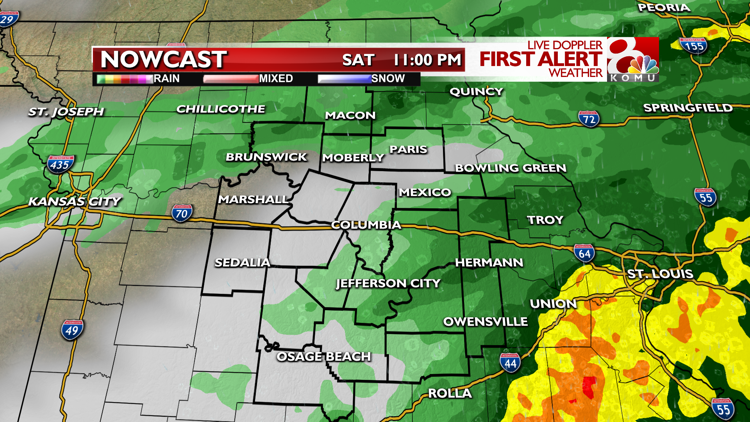 Rain showers remain possible throughout the rest of the night, though the trend will continue to be towards more and more dry time. 
AMOUNTS
Most of us will see anywhere from 0.25 - 0.75 inches of rain, with isolated amounts near one inch. Keep in mind that these are additional rainfall totals, which will be added to the rain we've already picked up as of about 6:00 PM Saturday.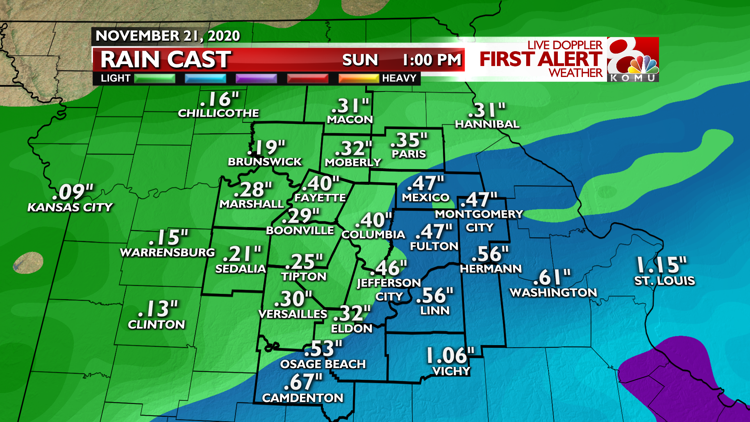 Sunday
Most of us will wake up to cloudy conditions for Sunday. Stray showers and sprinkles are still possible, though the coverage will likely only be about 10-20% (at best). These already-slim rain chances will continue to decrease throughout the day.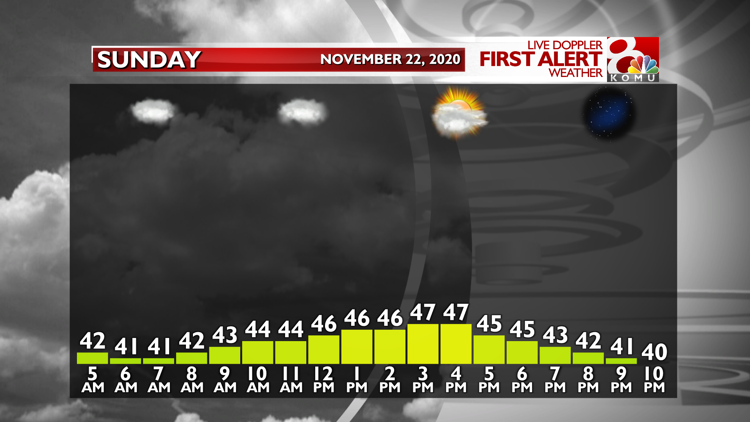 Overall, expect things to be chilly and dry for the afternoon. There is a chance that we will manage to see a bit of sunshine late in the day, though that is not guaranteed. (If cloudy skies aren't your thing, I invite you to read on for a look at Thanksgiving!)
Regardless of whether we see the sun tomorrow afternoon or not, clearing is likely after sunset. This clearing will pave the way for a chilly Sunday night, with lows in the upper 20s and lower 30s. 
Thanksgiving Week
The active weather pattern continues to stay with us into the upcoming week. After a brief break in the activity on Monday, a strong storm system will enter the Midwest and create a good chance of widespread rainfall for Tuesday and Tuesday night. Amounts from this event might also be rather impressive (at least by November standards) with 0.5" - 1" possible across the area. This is certainly good news, since we're nearly 1.25 inches below average for the month so far.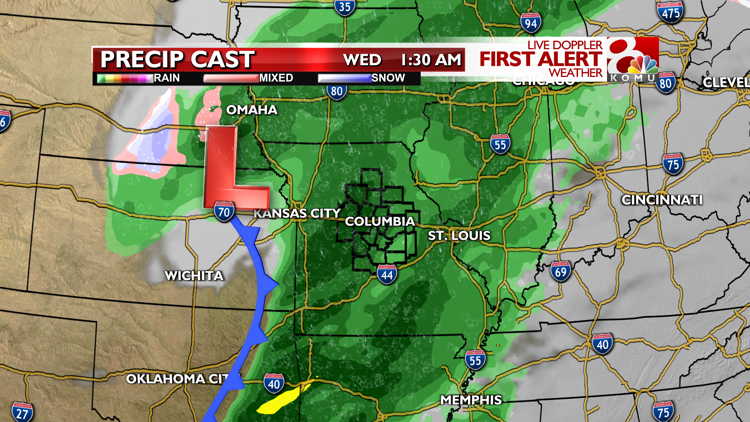 Following this storm system, we should see at least a couple days of relatively calm weather. 
THANKSGIVING
Thanksgiving Day currently looks to be the best weather day of the next eight, with mostly sunny skies expected. We will remain in an active weather pattern, though storm systems should be far enough away that they won't affect our weather. Temperatures Thursday should reach the mid to upper 50s across the area - not bad at all by late November standards. 
Following Thanksgiving, early indications are that another storm system may dive into the Midwest next weekend. That would create yet another chance for precipitation. We will continue to track that here at the First Alert Weather Center in the coming days.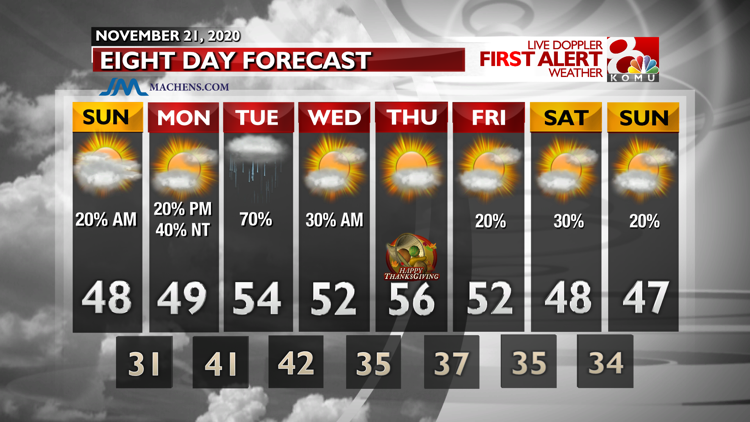 Have a great rest of your weekend!