Temperatures were 10-15° above average today and we will be just as warm tomorrow, but changes will arrive in the form of a cold front on Thursday.
Wednesday: Temperatures will be nearly 20° warmer than average with highs in the middle 50s. #MidMoWx #MoWx #MidMO pic.twitter.com/kBqirfFdue

— Matt Beckwith (@KOMUMatt) January 12, 2021
WARM WEDNESDAY
Mostly clear skies are expected overnight with lows falling into the lower 30s. This temperature is nearly 10° above our average low for this time of the year.
Temperatures will soar into the middle and upper 50s for the afternoon with a mix of sunshine and cloud cover. We expect the day to start with mostly sunny skies, but cloud cover will increase for the afternoon and evening. Additionally, winds will be breezy out of the southwest gusting up to 25 mph. 
Ready for a warm Wednesday? Temps will be ~20º above average for this time of year. #mowx pic.twitter.com/BMNdxtlfX4

— Kenton Gewecke (@KentonGewecke) January 13, 2021
LATE WEEK COLD FRONT
Changes will return to our weather pattern starting on Thursday due to a cold front. This front is expected to pass during the day, and that will lead to a tricky temperature forecast. Temperatures will quickly warm through the middle of the day, reaching the middle 40s, but they will likely fall through the afternoon and evening. How warm your get will depend on the timing of the afternoon frontal passage.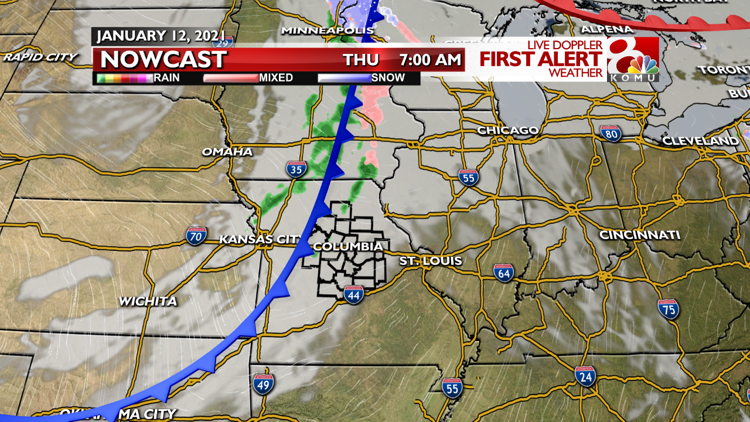 Moisture looks to be lacking with this front, but a few rain showers will be possible. Rainfall totals for most should be less than 0.10"
Thursday is also looking windy as this cold front arrives. Wind gusts up to 40 mph are expected.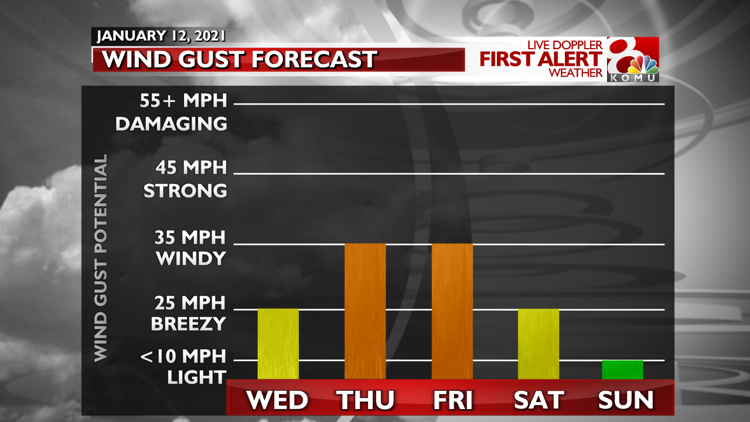 SNOW CHANCE
Friday looks to be a cloudy, cool and windy day with highs in the middle 30s and winds gusting up to 40 mph. Most of the day looks dry, but it does appear that we may get 'clipped" by a secondary push of energy Friday afternoon and evening and that will have the potential to bring some light snow.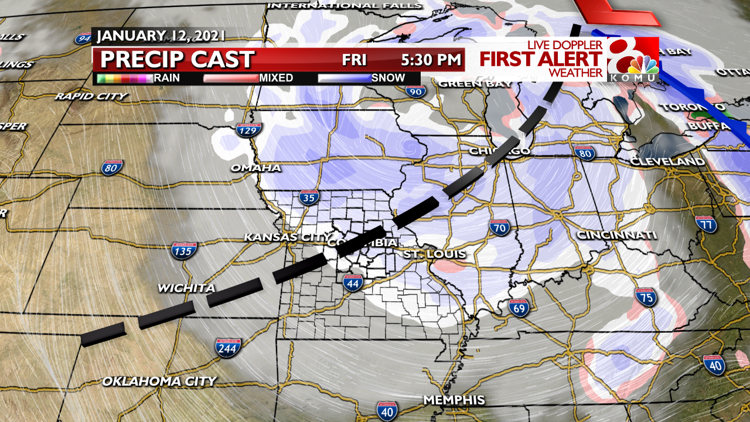 This system is still several days away, but this does not look like a significant snow event. Snow should remain light and any accumulations should be minor with a dusting to an inch possible as of this forecast Stay tuned for updates!
LOOKING AHEAD
Saturday is looking dry and cool with highs staying in the middle 30s and mostly cloudy skies. A little sunshine is forecasted for Sunday, but you can expect more clouds than sun. Highs will be a touch warmer in the upper 30s.
Early next week will feature temperatures that are slightly above average, in the lower to middle 40s with partly sunny skies.