Friday will be breezy and warm with a slight haze to the sky as  plume of smoke and ash from wildfires out west passes over Missouri. Highs will reach the lower 80s. Wind gusts could reach 25-30 mph.
A quick-moving plume of wildfire smoke and ash will make for hazier skies today in Missouri #mowx pic.twitter.com/96yg0QZ5Zq

— Tim Schmidt (@komuTim) September 24, 2021
There will be some clouds in addition to the smoky skies that will lead to a more yellow colored sky than a traditional sky-blue. Skies will slowly become mostly cloudy by this evening ahead of a cold front that will pass through Missouri tonight.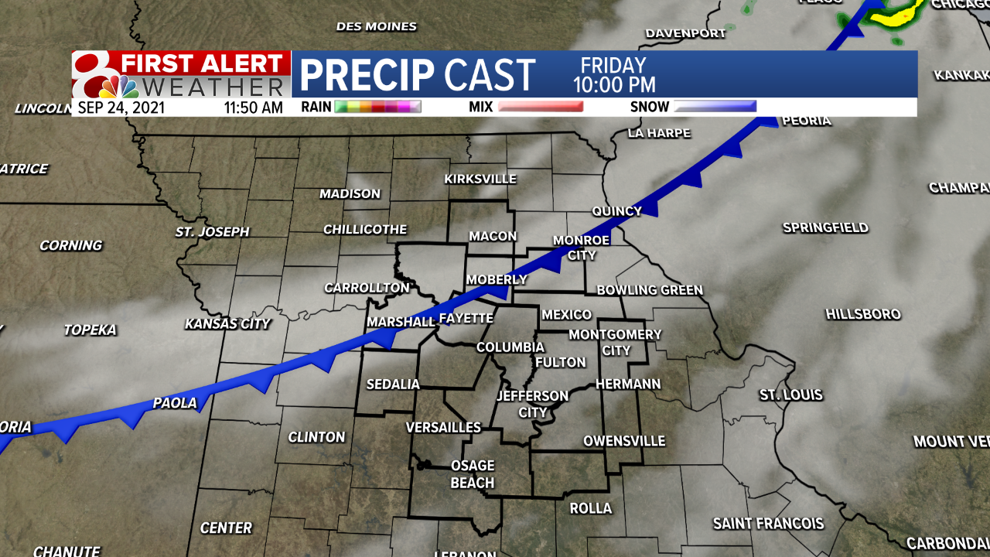 While a quick-moving cold front moves in, the air is very dry and rain chances will be only around a 10% chance for tonight. This front will lead to morning temps in the 40s over northern Missouri, and lower 50s for morning temps in central Missouri. Highs on Saturday will reach the middle to upper 70s.
Very warm Sunday with temps quickly warming in the upper 80s. Highs are expected to reach the lower 90s early next week.
DANGERS OF BRUSH FIRES
The National Weather Service office in Kansas City is spot on and highlights the potential for runaway brush fires across the region.
With fall harvest well underway, please be overly cautious today with hot equipment and any equipment that may throw a spark.Gusty winds and low relative humidity will allow any spark to quickly ignite dry vegetation, including those stubble fields.

— NWS Kansas City (@NWSKansasCity) September 24, 2021
Relative humidity will be in the 20-30% range over the next several days with breezy winds at times. Monday and Tuesday will be days where breezy warm, winds combined with dry air conditions could raise concerns for a Red Flag Warning.
Warm, dry weather and a lack of rain will continue to be the pattern for all of next week as a stationary font will form from north to south over the Central Plains, preventing rain from reaching central Missouri.