September was the first month of meteorological fall, but for folks in central Missouri it felt like a simple extension of summer.
SEPTEMBER RECAP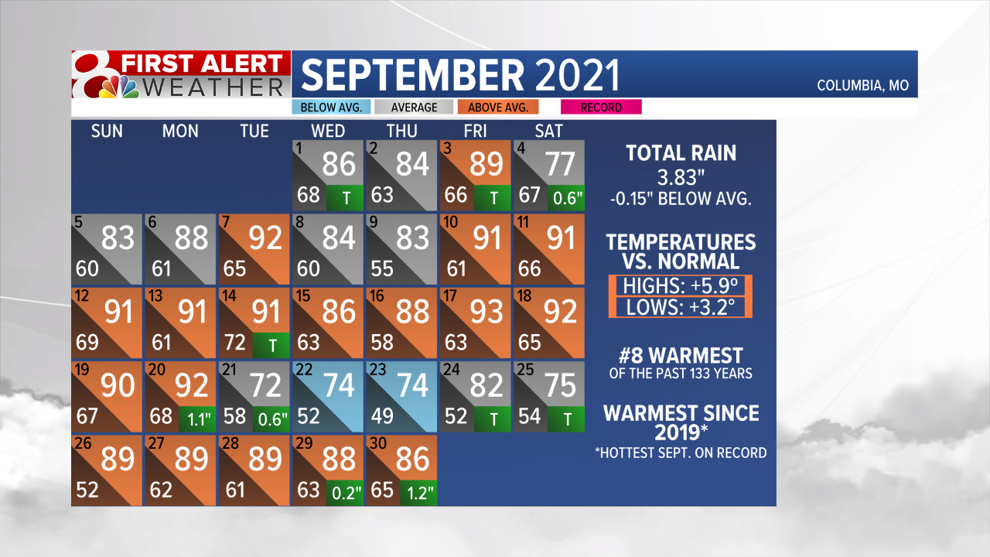 TEMPS
Temperatures were well above average in September 2021.
High temps were 5.9º above average and lows were 3.2º above average, leading to an overall month that was 4.6º above average. 
It was the 8th warmest September on average, but only the warmest in two years. 2019 is holding strong in first place as the warmest September of the past 133 years.
In the past three years central Missouri has experienced two of the top 10 warmest September's on record since 1889. 
On average, Columbia's September temperatures were 2.4º warmer than 50 years ago.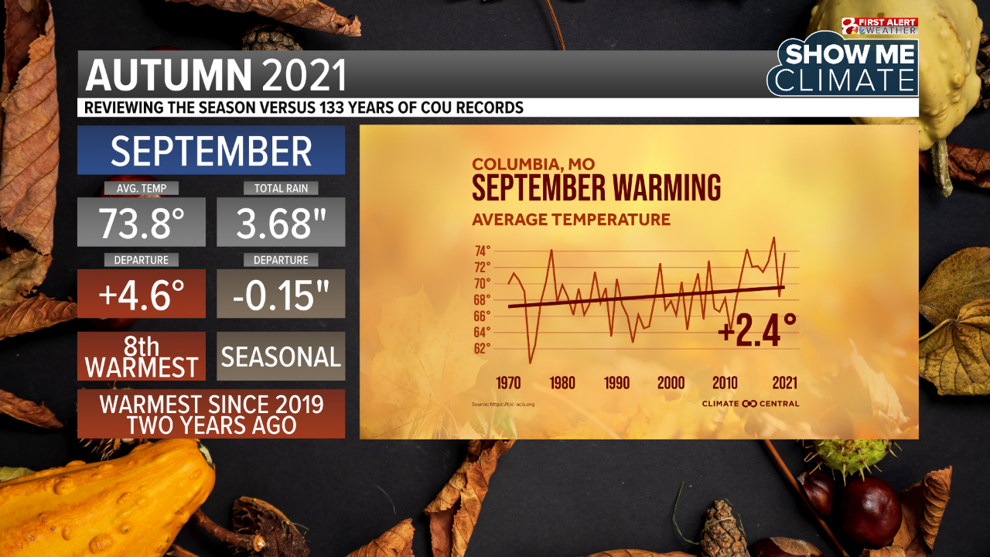 RAIN
Meanwhile, in terms of rain, much of the month was dry. The bulk of the month's rainfall total fell over three days: September 20, 21, 30. 
It ended up being "seasonal" for rainfall, totaling 3.83" at the Columbia Regional Airport, which is within a quarter-inch of the 30-year normal.
The rain was needed, as dry conditions were starting to impact soil, paving the way for a future drought. However, rain continued for a few days into October and therefore any drought that was on the horizon will be stifled for a bit longer. 
AUTUMN CLIMATE DATA
While summer is typically our least-warming season in terms of the changing climate, fall and spring are generally in second place, with winter leading the pack with warmer temps.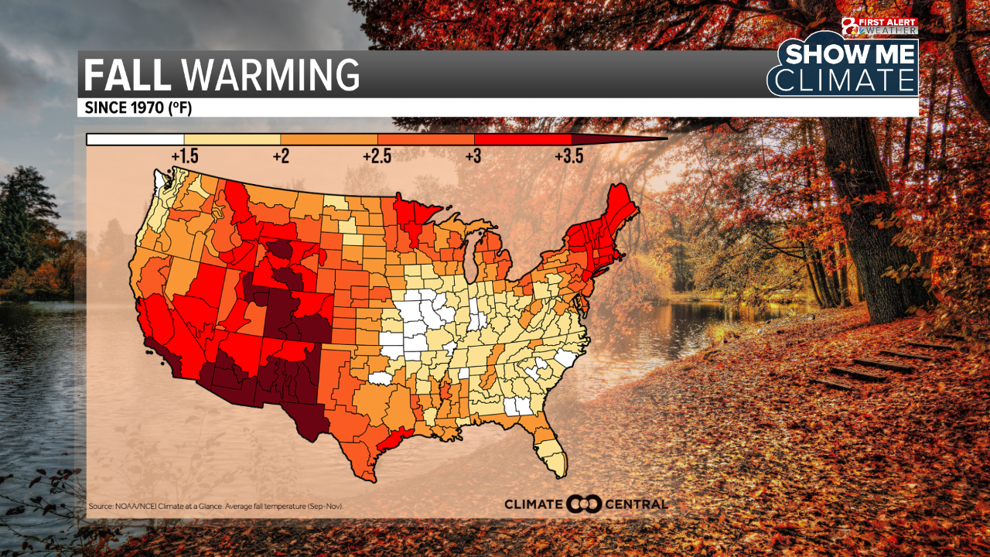 Still, fall in central Missouri has generally experienced an increase in above average days compared to normal as well as an average of a 2º warmer season.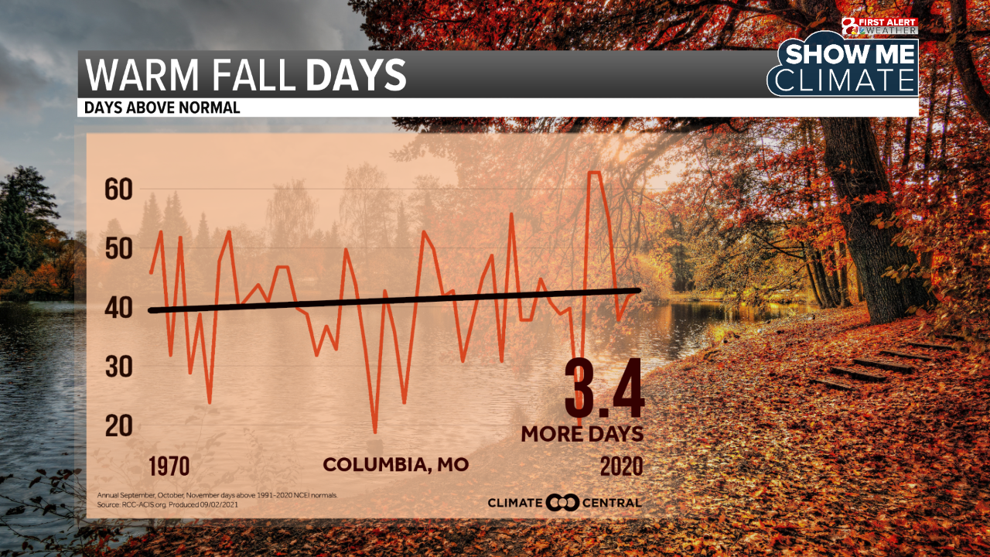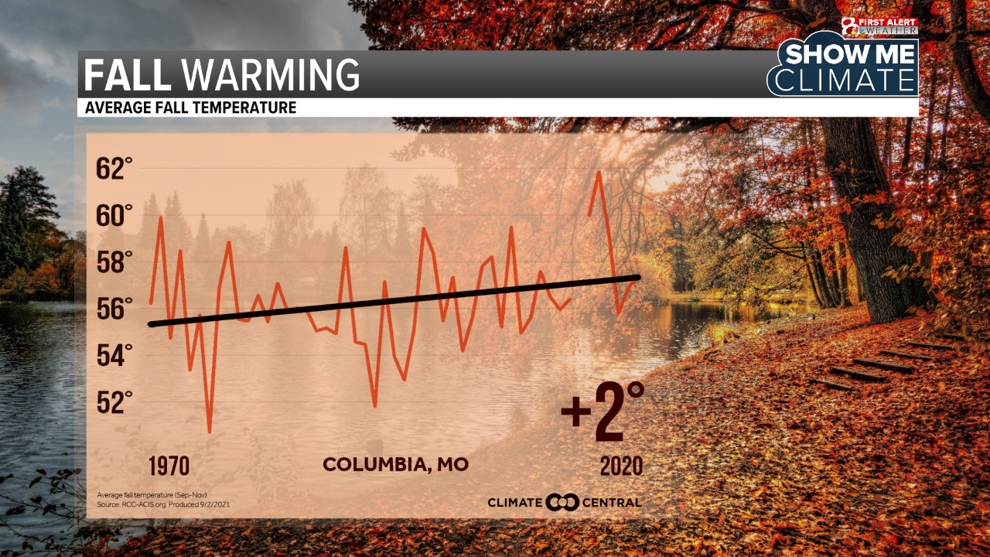 WHY IS A WARMER FALL IMPORTANT TO TRACK?
There are a few reasons a warmer fall is important to note. As summer stretches longer into the year, threats are extended too.
Pollen, especially ragweed pollen, becomes more potent and is found in greater quantities due to warmer weather lasting longer into fall, combined with more carbon dioxide in the atmosphere. This will extend and even worsen allergy season. 
Ticks, mosquitoes and other disease-carrying pests will stick around longer and can lead to extended public health issues.
Of course, the longer heat sticks around the longer air conditioning will use up electricity, rising utility costs and releasing more greenhouse gases.
Other issues include a longer wildfire season which can decrease air quality in Missouri, bird migration patterns, hibernation, and even fruit ripening.