Congratulations, we've made it out of the coldest part of the year, on average. As I'm sure you've noticed, it has been a very mild winter so far, with above average temps and more rainy days than snowy days.
Let's just look at the average coldest time of winter. You can see here that the coldest days of the year typically occur in December over the West.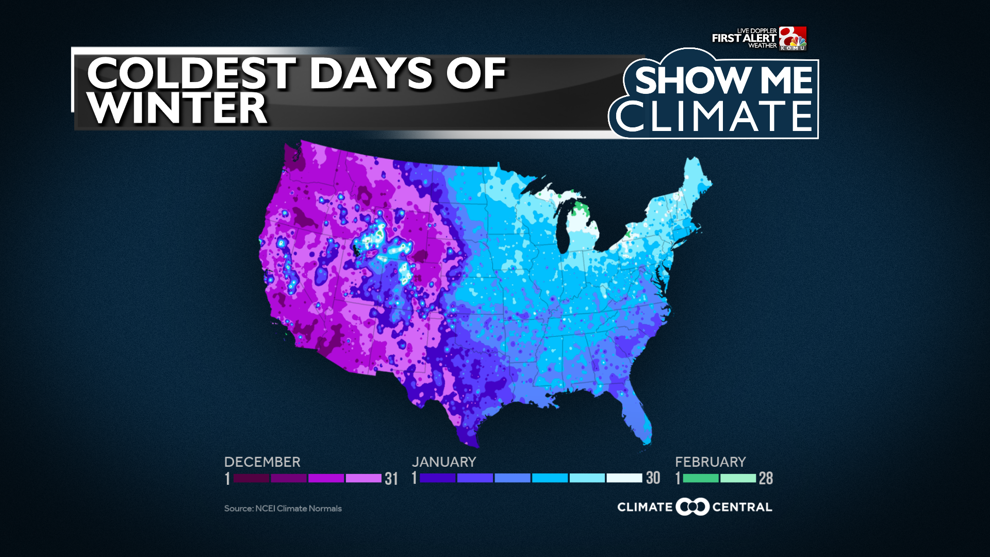 In central Missouri there are five days where our temperatures are on average the coldest, and those days are January 11-15. 
Our coldest days are not as cold as they used to be. Over the past 50 years our average has risen by nearly nine degrees.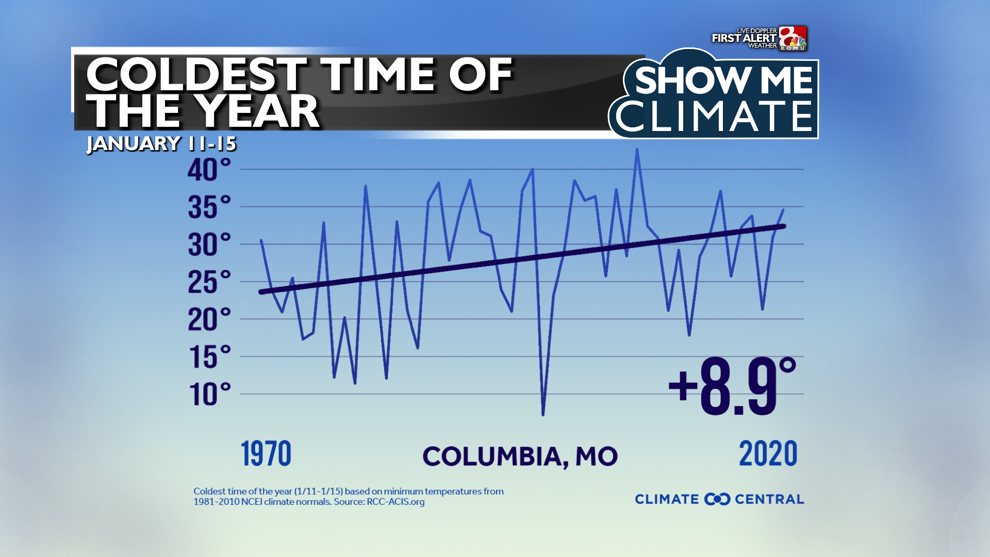 How about our winter thus far?
December was 4.8º above average and January was 4.3º above average.
There is an interesting point to make in terms of the temps in January. High temps were 1.6º above average while low temps were a whopping 6.9º above average. This makes January 2021's low temperatures a record top ten warmest since 1890.
In terms of precipitation, December saw virtually no snow and was 1.54" below average in rainfall. January saw 5.2" of snow, only 0.7" below average. January has made up for the dry end to 2020, garnering 3.24" of rain. That's 1.32" above average for the month making it the 17th wettest January on record.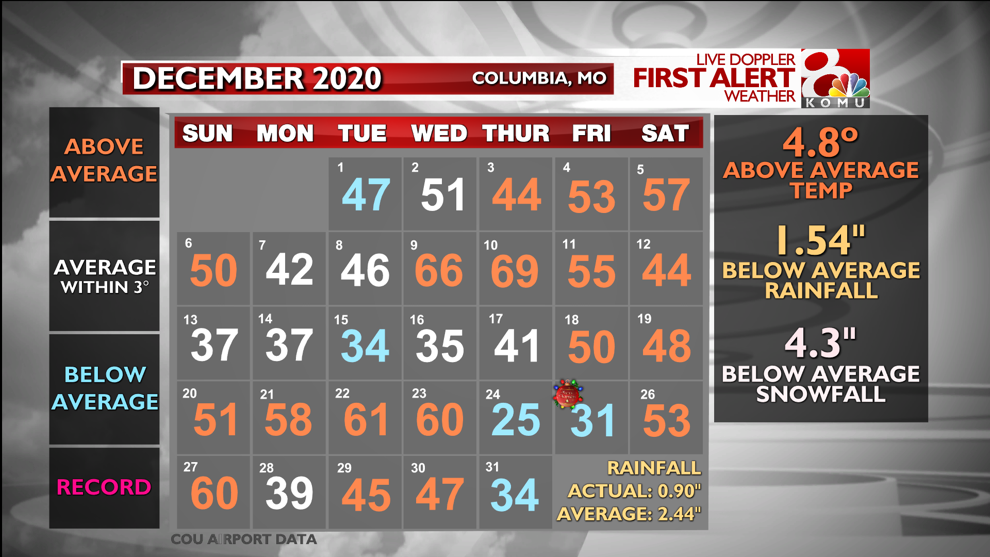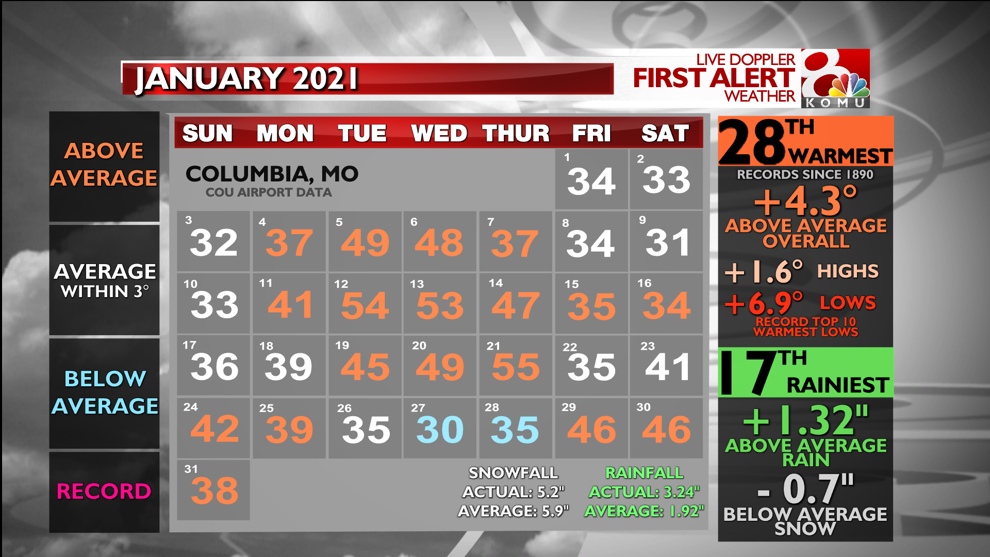 Looking at temps another way, over these two months:
58% above average
31% seasonal
11% below average
You can see we've had very few below average days thus far. That's a trend we've seen over the past 50 years. We have fewer consecutive below average days in winter.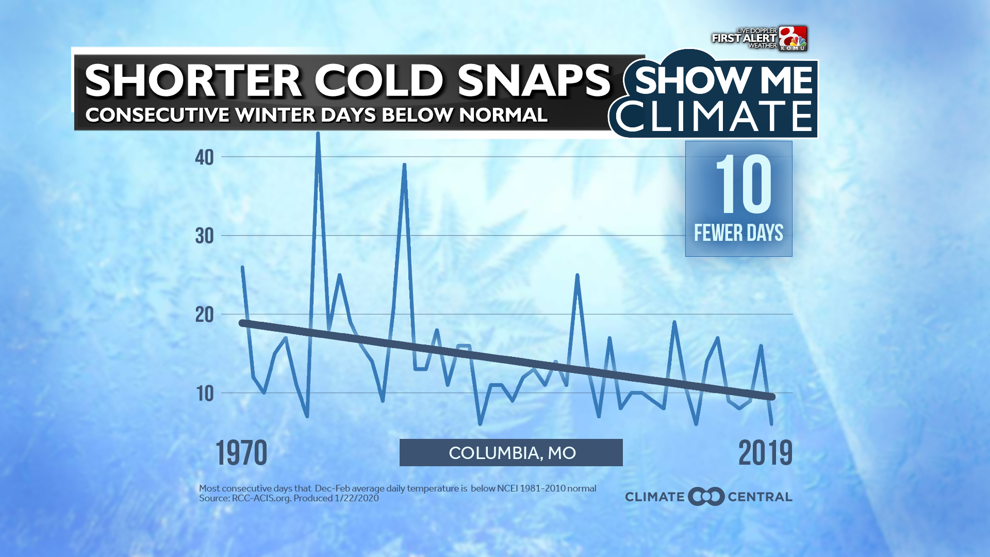 This is a trend we see over time, too. We're getting warmer winters and less snow.
Looking ahead to February, which is the last month of a recorded winter season, I can tell you we're looking to be colder to start the month, which will in turn help to lower our overall winter season's temperature disparity for the 2020-2021 year. So, if you think this winter will go down as just a mild one, early February might try to change your mind. We'll see if it lasts more than just a few days.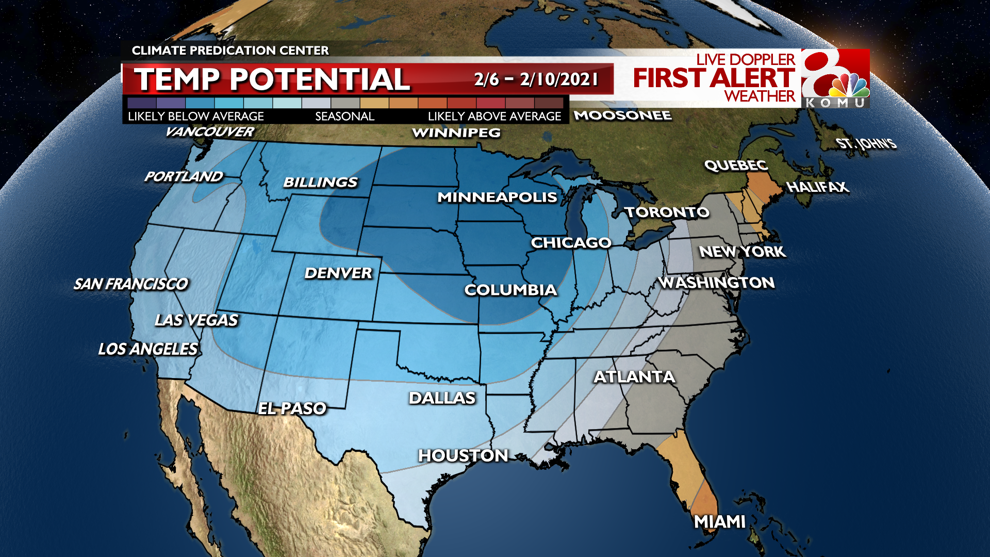 For more show me climate stories visit komu.com/climate or the KOMU 8 News streaming app on smart TVs (Roku, FireTV, AppleTV, AndroidTV).