This system has excited mid-Missouri after producing 2-4" of snowfall for much of the region. Click here for the latest weather information. 
Most of mid-Missouri saw 2-4" of snow as expected, but most of it has already melted due to temperatures above freezing. The area hit hardest was southern Missouri, south of I-44, where some folks saw 5-10" of snow. #MoWx #MidMoWx #MidMo @KOMUnews pic.twitter.com/EqBNWyKIi9

— Matt Beckwith (@KOMUMatt) January 25, 2023
OLD INFORMATION
The KOMU 8 First Alert Weather Team is in Storm Mode 3 for Wednesday morning because we expect issues to travel across the region. 
TRACKING THE SNOW
Snow will come to and end around mid Wednesday morning. Light flurries will remain possible through much of the day.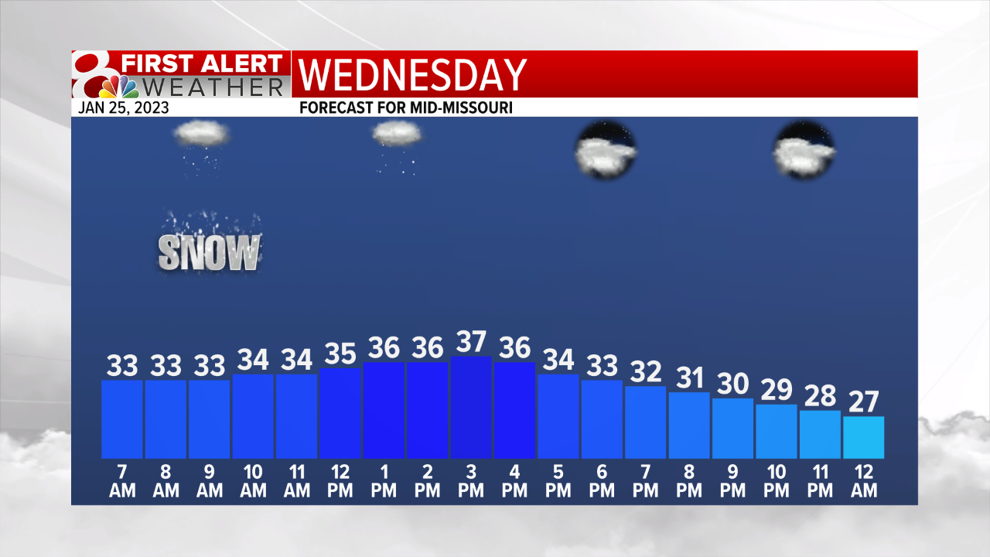 Air temperatures have remained fairly warm (at or above freezing) through the night and will slowly rise back in the middle 30s by this afternoon.
SNOW TOTALS & UNCERTAINTY
This storm system mainly has its focus over southeastern Missouri and northern Arkansas where amounts of snow ranged from 6" to 12" down there! 
For us in central Missouri, the snowfall has ranged around 2" of accumulation in most locations. There have been reports of up to 4" of snow around Macon, MO and for some locations in northwest Missouri where the air was slightly colder through the night.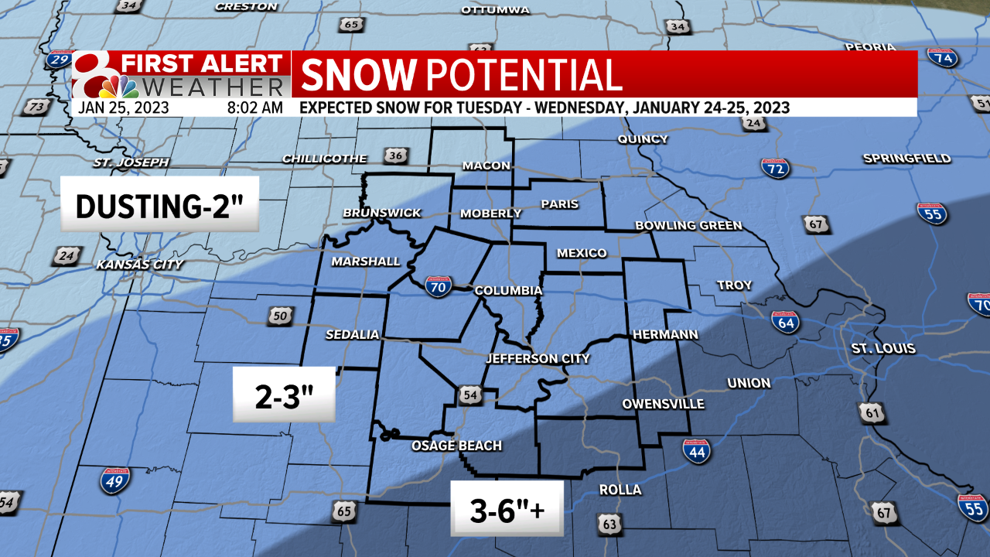 TRAVEL IMPACTS 
Travel is likely to be at its worst during Wednesday morning. As the snow comes to an end this morning, travel conditions will gradually improve thanks to those warming air temperatures. Snow will melt front roads throughout the day. Just be aware there may be slick and slushy areas and that roads will be wet all day, not dry. Stopping distances will be affected by this.
It would still be a good idea to clear off your car, driveway, sidewalk, etc. as while Wednesday afternoon temps will be above freezing, frigid air returns tonight with lows near 20 degrees. This cold air will freeze any snow or melt tonight. 
LOOKING AHEAD
Thursday will be a chilly day with morning temperatures near 20 degrees and highs struggling to reach 30 degrees under cloudy skies. Winds will also be breezy out from the west-northwest.
Warmer air returns thanks to breezy winds on Friday and Saturday. However, another shot of cold air with light snow chances will be possible Sunday. Next week will run cooler than normal for temperatures.